Childrens Dentistry
At West Park Dental, we create a fun, friendly atmosphere for children. We avoid words like "drill", needle and "injection". Our goal is to make their experience a positive one so they can find their "dental home" as soon as possible.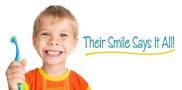 Here at West Park Dental, we emphasize proper maintenance and care of deciduous (baby) teeth, which are instrumental in facilitating good chewing habits, proper speech production and also hold space for permanent teeth.
We educate your child on the importance of keeping teeth strong and healthy with good eating habits and the home hygiene routine. By keeping regular 6 month visits, we are able to anticipate dental issues and intervene before they worsen.
Helping you and your child establish sound eating and oral care habits reduces the chance of later tooth decay. In addition to providing check ups and dental cleanings, our hygienists and Drs. apply dental sealants and topical fluoride to young teeth.
We can also advise you on thumb-sucking/pacifier cessation and good demonstrations of brushing and flossing.
Contact us for more information on Childrens Dentistry.
---
Dental services provided by West Park Dental: